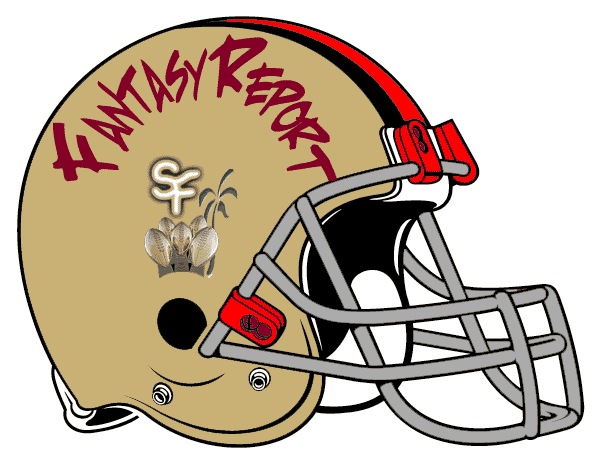 WEEK 1 AND WEEK 2 REACTIONS
09/17/02
---
Welcome to Trevor's Corner Fantasy Update, your one-stop shopping clearinghouse for information and wonderful tidbits regarding the amazing, unbelievable, wondrous, darn respectable 49ers Paradise Fantasy Football League.
The season went underway two weeks ago, much to the favor of everyone involved with the 49ers Paradise FFL. Every week you can come to the fantasy section of Trevor's Corner and read my reactions to the previous week's fantasy football matchups, my thoughts on trade proposals, and my plans for the upcoming week.
WEEK 1: After a few minor moves, my starting lineup for Week 1 looked a little something like this (Players followed by their opponent for the week):
TrevortheGreat:
QB Brett Favre - ATL
WR Terrell Owens - @NYG
WR Troy Brown - PIT
WR Peter Warrick - SD
RB Jerome Bettis - @NE
RB Charlie Garner - SEA
TE Tony Gonzalez - @CLE
K Sebastian Janikowski - SEA
DEF Miami - DET

My opponent was the league commissioner. You probably know him from the 49ers Paradise Forum as Scotttyz. His lineup:
Players:
QB Brian Griese - STL
WR Rod Smith - STL
WR Terry Glenn - ATL
WR Oronde Gadsden - DET
RB Shaun Alexander - @OAK
RB LaDanian Tomlinson - @CIN
TE Chad Lewis - @TEN
K Matt Stover - @CAR
DEF Chicago - MIN
THE RESULT: Though Tomlinson had a big day against the Bengals with 159 total yards and 1 touchdown, along with Griese hitting Smith for a touchdown, in the end Players was done in by Charlie Garner's big day, with 191 total yards and 2 touchdowns against the abysmal Seahawks defense, not to mention strong performances by Brett Favre and the Miami defense. Yours truly ran away with the victory.
FINAL SCORE: TREVORTHEGREAT 73, PLAYERS 60
WEEK 2:
Coming off a strong Week 1 victory, I went into Week 2 looking to make some changes. Because I didnt start Travis Henry last week, I missed out on his career day (178 total yards, 3 TDs). The points his performance would have earned me would have put me solidly in first place. Instead I suffered through Jerome Bettis' shoddy play against the Patriots. And unless the Steelers manage to find a way to solve their problems with the pass defense, they're going to find themselves playing from behind in most games. That said, Bettis gets to ride the pine this weekend, while Henry makes an early ascension to glory and the starting lineup. Also, seeing highlights from the Bengals Week 1 debacle reminded me just how bad that team is, so Peter Warrick sits until further notice. With Ray Buchanan serving a league-mandated suspension, I figured Dez White was a good play against a depleted Atlanta secondary. 49ers My Week 2 lineup was as follows:

TrevortheGreat:
QB Brett Favre - @NO
WR Terrell Owens - DEN
WR Troy Brown -

@NYJ
WR Dez White - @ATL
RB Charlie Garner - @PIT
RB Travis Henry - @MIN
TE Tony Gonzalez - JAX
K Sebastian Janikowski - @PIT
DEF Miami - @IND
My opponent for the week was Trevor Award Winner for Worst Team Name, AUSTRALIA. His lineup:
AUSTRALIA:
QB Rich Gannon - @PIT
WR Marvin Harrison - MIA
WR Ike Hilliard - @STL
WR Curtis Conway - HOU
RB Ahman Green - @NO
RB Michael Pittman - @BAL
TE Marcus Pollard - MIA
K Martin Grammatica - @BAL
DEF Green Bay - @NO
THE RESULT: I watched the New England - New York Jets game on Sunday morning. For any who didnt see it, on a masterful play, Tom Brady hit Troy Brown in stride on a long pass for what looked to be a surefire touchdown. But Brown got tackled at the goal line, and the rain-soaked ball popped out and was recovered by the Jets. I said to myself "Self, I sure hope that doesn't come back to bite me." Well, it did. AUSTRALIA played me very very tightly, and solid performances by Gannon, Harrison, and Grammatica let him squeak out a two-point victory, setting me back to 1-1.
FINAL SCORE: AUSTRALIA 68, TREVORTHEGREAT 66
LOOKING AHEAD: Charlie Garner and Jerome Bettis both have byes this week, and DeShaun Foster is injured. A quick look at the waiver wire showed didnt reveal many eye-popping options. Mike Anderson was available, and playing against the Buffalo Bills' 24th-ranked run defense, but with Mike Shanahan constantly rotating backs, his production is hard to predict. However, with Ahman Green due to miss this week thanks to injury, the Packers' only viable option at RB against Detroit's porous defense is Rondell Mealey, who, granted, is no Pro Bowler, but could provide a nice single game option. I picked him up and started him.
IN OTHER NEWS: Though Dez White looked like a reasonable start, I remembered too late that Jim Miller is still the Bears' quarterback. So until Chicago learns to make better use of multiple wideout sets, former Bear D'Wayne Batesgets the call. He's looked very good playing opposite Randy Moss in Minnesota, and should give some solid production against Carolina's weakass pass defense.
ALSO OF NOTE: Bling bling is a tard.
Check in next week for results of Trevor's big Week 3 game against The Kelton Rogueyaks, 3rd ranked team in the 49ers Paradise Fantasy Football League.