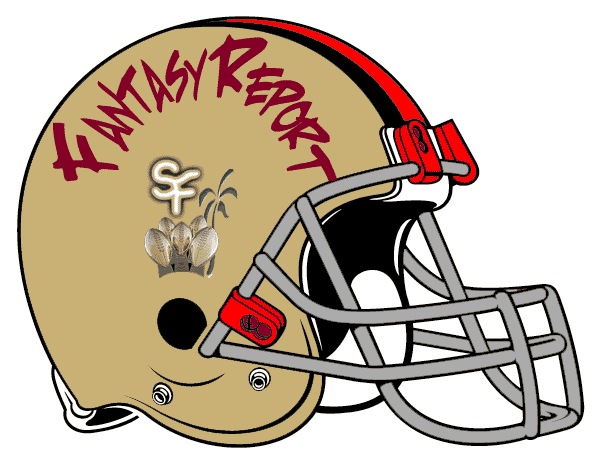 THE HUNT BEGINS PT. 3
09/05/02
---
AWARD TIME!
That's right, ladies and gentlemen. You've read my rules, you've studied and extensively analyzed the draft, and now, the day the season kicks off, it's time for the greatest award ceremony in the history of award ceremonies.... THE TREVORS!
There are several categories of Trevor awards, and they will be listed below, along with a brief explanation of what is entailed in winning the Trevor. So let's cut the crap and get started.
Best team name: An obvious one, given to the team whose name rolls right off your tongue and into your heart. And on this one, after much research, it goes to The Kelton Rogueyaks. It's funky, it's got flow, it's the hip-hoppinest name among the Chosen 12.
Worst team name: With respect to the owner, this one goes to whosever team name just rubs me the wrong way. And on this one, the onus is on AUSTRALIA, if only for the name-association he'll now always have with Steve Irwin, the Crocodile Hunter. Sorry Aussie, but you're out. G'day!
Biggest head-scratcher: This one goes to the owner who made the biggest, most boneheaded move that made absolutely no sense to anyone involved with the draft. And this one, without a doubt, goes to my buds, the Kenai Kings. The Kings drafted not one, not two, not three, not even four, but five quarterbacks. To make up for this glut of QBs, they drafted but two runningbacks. RBs are the hottest commodity in Fantasy Football, and while having five quality QBs would make for nice trade bait, the QBs he drafted were, in order, Steve McNair, Quincy Carter, Kordell Stewart, Drew Brees, and Shaun King. And while he gets kudos for his affirmative-action QB drafting policy, none of those guys are going to make guys in this league pony up anything great for 'em. Inexplicable.
Best sleeper: This one goes to the owner who drafted a guy with a later pick who is in a great position to explode. Not a guy who did fantastically last year, but a guy who could do quite well this year, and one for whom he didnt give up too much to get. This award goes to The Kelton Rogueyaks, for their genius drafting of Pittsburgh's Antwaan Randle El with the 145th pick. Bill Cowher is world-renowned for his ability to get production out of the most obscure places (read: Kordell Stewart, Amos Zeroue, Hines Ward, etc.), and Randle El looks like another gem. And hey, even if he doesnt pan out, the Rogueyaks only burned a 13th round pick on him. Pssh.
Biggest reach: This Trevor goes to the player who took a player who has good potential waaaaaaaaay too early. And this award is lovingly wrapped and FedEx'ed out to bling bling, who with other much more established RBs on the board took Deuce McAllister with the 16th overall pick. What, Anthony Thomas, LaDanian Tomlinson, Ricky Williams, and Stephen Davis are all washed up?
Best use of Percocet: This award goes to the owner who was the most out of it on draft day, making stupid boneheaded moves all across the board. And this one goes out to yours truly, TrevortheGreat. In the third round I took Tony Gonzales, star tight end of the Kansas City Chiefs, who at the time was in the middle of a big contract dispute. He would later sign, but that holdout still dropped his value at least one round if not two. Then, five rounds later, I took my first sleeper in DeShaun Foster, only to find out he'd torn a ligament in his knee the night before in a game and could be out the whole season (as it turned out, he would only be out for four weeks, but still). So take two for pain, and avoid before FFL drafts. Good job, me.
Best value pick: This goes to the guy who got a good established player with a late round pick, thus making himself deeper and much harder to be foiled by injury. And this award is actually a tie. Legion of Doom got Tiki Barber with the 99th pick, long after the talent well at RB had run dry. And the Legion struck again when it landed Mark Brunell with the 166th pick, an absolute coups and one that should work out quite nicely for him. So good job, Legion of Doom. You the man.
Worst value pick: This Trevor goes out to the owner who got absolutely nothing (or close to it) for a mid- to high-round pick. When bling bling took Fred Taylor with the 33rd overall pick, no one was really quite sure what to make of it. The man has never played a full season, and the closest he's come is 2000, when he started 13 games. He's one hard hit away from the sidelines, and that's not good news when you're talking about your third round pick. Tsk, tsk, bling bling.
And now the positional awards. These go out to the guys who assembled the best talent at any one given position. This makes it easiest for them to handle an injury to one of their key players at that position, or just give them good trade bait. So here we go.
Best QBs: This was a tough one, with three teams in contention. But really, when I look at it most objectively, The Kelton Rogueyaks got Jeff Garcia with the number one overall pick, and then he took Jake Plummer and Michael Vick to back him up. And if Vick or Plummer explodes, he can trade either of them for more depth at another position.
Best RBs: Three teams were in contention for this one too. Since you can start two RBs, I figured whoever had the best top two RBs and at least one great backup would win, and with that decided, the award goes to Legion of Doom, who will field Marshall Faulk and Anthony Thomas as starters most of the time. And then when they have byes, he can bring in Tiki Barber or Mike Alstott to play, and that aint bad at all.
Best WRs: For competition's sake, I included TEs on this one, only because most teams are only fielding one tight end. To that end, two teams came down to the wire on this one. But Philly Knocker's three-headed monster of David Boston, Torry Holt, and Marty Booker, with Frank Wycheck at TE was edged out by TrevortheGreat's great depth with Terrell Owens, Troy Brown, Peter Warrick, D'Wayne Bates, and Dez White at WR, with Tony Gonzales at TE. Philly's good, but I've got him beat on this one.
Best Ks/DEFs: On this one, the team that stood out from the rest was Margin Walker, who grabbed Jeff Wilkins, the kicker on the league's most high-octane offense, and two excellent defenses in Tampa Bay and Oakland. He'll get the most consistent points of any team from that group.
Alright, now that we have all the little dog awards outta the way, it's time to give the Big Dog awards away. That's right, Best and Worst Draft. These awards are pretty self-explanatory, but just because I'm long-winded, I'll explain 'em anyways. Here we separate the hero from the goat. The Future League Champion (maybe) and the Future Guy Buying the Rest of the League Beers (definitely).
Worst draft: I really really really hate giving out this award, only because from a Karma standpoint, giving this award makes it that much more likely the winner of this award will beat me when I play him. But it's gotta be done. Drumroll please!
Kenai Kings drafted five quarterbacks, two runningbacks, and only three wide receivers. Of those, only Randy Moss and Isaac Bruce are guaranteed, every-week starters. So this year, the 49ers Paradise Fantasy Football League Worst Draft award winner goes to the Kings, who'll probably be trying to trade off their whole roster by midseason. Good job, guys.
Best draft: Phew! Now that THAT's outta the way, I can give the Big One. The Magnum Opus. The Copa Cabana. The most coveted award among all awards. Ladies and gentlemen! Your 2002-2003 winner of the 49ers Paradise Fantasy Football League Best Draft award goes to none other than...
Me!
Well yeah, me. Do you know how much time I've spent writing these articles? Hell, I spent almost more time writing about this draft than I actually did preparing for it, and that's really saying something. So yeah, while Legion of Doom, The Kelton Rogueyaks, and Margin Walker all had solid drafts, they can have the award once they start writing their own damn column about the League.
Oh, sweet irony.
Well now you, dear reader, get to pass out your very own award. It's up to you to predict the winnah of this damn league. You've heard the analysis, you've read the awards, and you've been made privy to the entire draft, so now it's up to you. Vote in the poll below, and tell us:

Fan Press:
Now you can write articles for 49ers Paradise, and read what other fans have to say too in the Fan Press section.