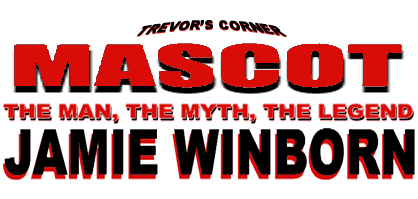 09/08/02
---
Ladies and gentlemen, Trevor's Corner is more than happy to present you now with your offical Mascot...

Jamie Winborn!

It was a tight race for final title of Trevor's Corner Mascot, with Jason Webster holding a commanding lead with six votes, but after a 16 tackle performance against the New York Giants in Week 1, Winborn stormed back, narrowly seizing the title at the deadline with seven votes.

(Trevor's Corner would like to thank the 19 people who took time out of their oh-so-hectic lives to click the poll and vote for the Mascot. Your places in heaven are secured.)

Jamie Winborn was born on May 14th, 1979 in the small town of Wetumpka, AL and graduated from Wetumpka High School. He earned a football scholarship at Vanderbilt (one of the greatest names for a college ever, I might add) and redshirted as a true freshman in 1997. He broke out in his first full season, leading the SEC in tackles and leading his team with 8 sacks. He secured Freshman All-America honors from the Sporting News and Football News that year.

In 1999, he earned first team all-SEC honors by leading the conference in tackles for the second consecutive year, with 141, including a career high 20 against Tennessee.

Winborn finished second on the team in tackles in 2000 with 105 and was amed to the All-America Dream Team by Sports Xchange. In the game against Florida that year, he logged 12 tackles, three sacks for 25 yards, five tackles for loss and two quarterback pressures, one of which resulted in an interception.

He left Vanderbilt after his junior year to join the NFL draft and was taken with the 47th overall pick by the 49ers. Though he was the early favorite to start at the "plugger" position after the release of longtime Niner Ken Norton, Jr., Winborn was beaten out in camp by Jeff Ulbrich.

An injury in training camp forced him to miss the first two games of the 2001 season, but when Ulbrich went down later in the year, he made his first career start against the Carolina Panthers and recorded a career high and 49ers rookie record 13 tackles. He finished the season with 14 games played, 4 starts, and 52 tackles.

Winborn now faces an expected breakout year in 2002. With the 49ers' recent history of draft picks exploding in their second years (Ahmed Plummer, Jason Webster, Jeff Ulbrich, etc.), Winborn is being expected to hold up the tradition, and in week 1 he looked more than up to the task. He recorded a new career high 16 tackles against the New York Giants, with a sack to go along with them. The defense looked like a completely different unit when he was off the field, and with good reason. His speed and pursuit ability were put to the finest use by Jim Mora and without him the D had to compensate for lack of athleticism at that spot.

09/15/02: Jamie Winborn was awarded NFC Defensive Player of the Week honors for his perfromance in Week 1. Winborn recorded four tackles in the 49ers' 24-14 loss to the Broncos.

10/02/02: Winborn recorded two tackles in the 49ers' 20-10 win over the Washington Redskins in Week 3. Unfortunately, a knee injury put him out of commission for the next six weeks or so. Which means...

IT'S CONTEST TIME!

That's right friends, check Trevor's Corner very soon for the first of many Jamie Winborn prize contests over the next few weeks. More details to follow.

Now it's up to you, getting loyaler readers. If you have any fun Jamie Winborn tidbits to share, pictures to email me, or other ways to save me some work, Email 'em to me and see your name in print right here in Trevor's Corner. Keep checking the Mascot section after every 49ers game for Jamie Winborn updates, contests, and other cool crap.

...

Remember what I was saying about contests? Well I lied. The prize stuff never came through and quite frankly, I was so put down by my mascot being out for the season that I just never had the heart to go through with anything. Well I guess Winborn's been put on the IR and his roster spot taken by Vinny Sutherland, so that's that. We'll have a new mascot next season, and here's hoping this guy turns out to be a success.

But Trevor's Corner gives one last salute to our man Jamie Winborn. You flashed brilliance that you may yet realize. You'll always have a fan right here.