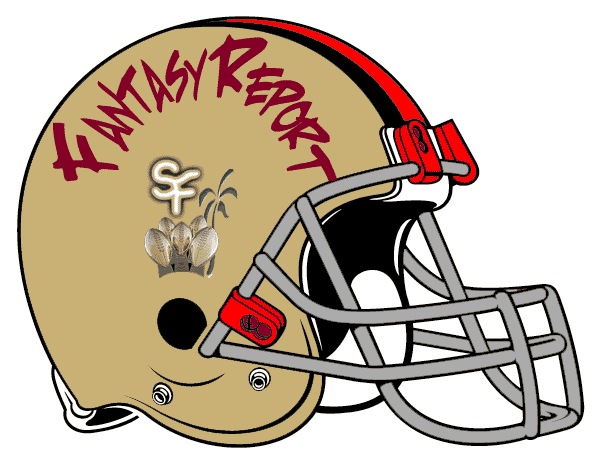 THE HUNT BEGINS...
08/29/02
---
Welcome to Trevor's Corner Fantasy Update, your one-stop shopping clearinghouse for information and wonderful tidbits regarding the amazing, unbelievable, wondrous, darn respectable 49ers Paradise Fantasy Football League.
Here we go, there's less than a week to go before the season begins, and here for you now is the first installment of the Trevor's Corner Fantasy Update!
The league held its draft a few weeks ago, with everyone in attendance. I went into the draft with a hand-crafted list of the top 100 players available in fantasy football (the Yahoo! rankings are faulty, to say the least) and a list of priorities. That list of priorities went as such:
RB
QB
RB
WR
TE
K
And so on. I had the seventh pick in the draft (out of 12), which sucks quite a bit. We set up a "snaking" draft order, which means that the guy who picks first in the first round picks last in the second, and so forth. So basically I would spend each round picking sixth, and then seventh, and then sixth, and then seventh.
But we persevere. There are a few rules you learn in fantasy football once you've been through a few drafts. These rules are what help players mine for the best players and find sleepers and such.
1. Never get caught up in a run. Runs are infamous in FFL drafts. The first pick of the draft is a QB, and then so is the second, and the third... by this point, guys with mid-round picks are looking at their draft board going "Hey, I gosta get me a QB 'fore all the good ones are gone!" and they start reaching for below-average talent to make sure they get their perceived biggest needs filled. But this means much superior talent slips through the cracks. That's my number one rule, kids. Never get caught up in a run.
2. Always do your own scouting. This is especially true if your league is run online. Default online rankings are almost always exclusively based on performance from the following year. And while this can be a good barometer of a player's potential draft position, some common sense must be attached. If you know a player had the season of his life last year (i.e., Tom Brady, Kordell Stewart), and is very very unlikely to repeat it, you wouldnt want to have him sitting high on your draft board above solid players who had off years but are still dependable for very good, consistent numbers (i.e., Peyton Manning, Drew Bledsoe). Doing your own scouting also lets you see where the computer might have placed some good solid sleepers, like rookies or players who were injured the previous year. Because of the computer's use of the previous year's stats to do its rankings, players like this can be found all along the bottom of draft boards. Yahoo! was good about placing rookies who were likely to get good production (i.e. William Green, TJ Duckett, David Carr) higher on draft boards than most sites would, but players like Ed McCaffrey or Fred Taylor (more on him later), or guys who are otherwise very good can slip through the cracks.
3. Always be as up-to-date as humanly possible on goings-on in the NFL world. More on THIS later, too. If a player got injured, is holding out, joined the military, or died during the offseason, you're going to look like a real idiot taking him with a high-round pick and laughing at everyone else who passed this certified gem up.
4. Play mindgames. Now granted, this tactic usually doesnt work, especially if you're dealing with a bunch of seasoned FFL veterans. But if you sense a guy is either new, gullible, or some combination thereof, take him for all he's worth. Things like "Hey, I hear Bobby Shaw is looking like a Pro Bowler over in Jacksonville. I think I'm gonna take him early before anyone else jumps on him!" are cruel, but ultimately serve two purposes. The first, and most important, is that if he falls for it, one quality player just slipped to you. Second, and less obvious, is that if he continues his FFL career, he'll be all the wiser. When you spend a year with Amos Zeroue as your number one back because some guy told you he'd unseat Jerome Bettis, you tend to either throw your hands up in disgust and swear off fantasy football forever, or try and dupe someone else. And hey, if you didnt dupe the poor bastard, somebody else was going to, right? Right.
5. Take calculated risks. Here's a big key, especially in late rounds. Talent gets depleted as the draft goes on, this is a proven fact. But rather than being lame and drafting Trent Dilfer or Bill Schroeder in the late late rounds, jump on a sleeper. D'Wayne Bates has done next to nothing for the last three years with the Bears, but he signed with Minnesota in the offseason and has been looking great, even better than Derrick Alexander, the veteran free agent signed to start opposite Randy Moss. Now granted, Bates probably wont break any records this year (especially not with Moss expected to get two out of ever five passes thrown his way), he could provide a solid 5-8 points every game, and that sort of contribution can't be overlooked. Burn a mid-round pick on a top-flight kicker and a defense, and then spend the late rounds mining for sleepers.
So with my rankings in one hand, and my list of rules in the other, I set off that fateful morn to go and begin staking my claim to the title of 49ers Paradise Fantasy Football League Champion!
Go to Part 2


Fan Press:
Now you can write articles for 49ers Paradise, and read what other fans have to say too in the Fan Press section.